'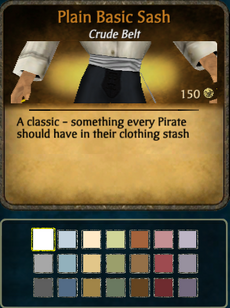 Basic Sash is a crude men's belt. Though simple, they can be found in a variety of colors from select tailors. Unique and usually much brighter colors can only be found in loot drops.
Loot Variations
(Colors only available from loot drops)
| | | | | |
| --- | --- | --- | --- | --- |
| Bright Blue | Bright Green | Bright Orange | Bright Red | Bright Yellow |
| Dark Black | Forest Green | Lavender | Magenta | Navy Blue |
Store Variations
(Colors available for purchase from a tailor; may also be found in loot drops)
Discontinued Variations
Ad blocker interference detected!
Wikia is a free-to-use site that makes money from advertising. We have a modified experience for viewers using ad blockers

Wikia is not accessible if you've made further modifications. Remove the custom ad blocker rule(s) and the page will load as expected.