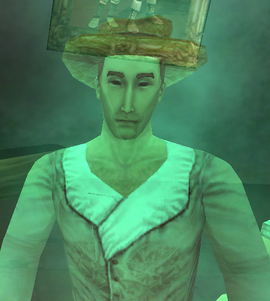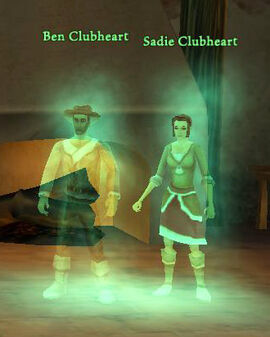 Ben Clubheart is a Raven's Cove ghost who can be found in the ghost town's tavern. He is a relative of Sadie Clubheart, though it is not said what their relationship is.
As part of the Raven's Cove Story Quest, male pirates will have to disguise themselves as Ben to get inside the Skeleton Poker club. The resale and purchase prices are the same for each individual article of clothing required, so you can sell the items right back and take back your investment.
Ben's Clothes have to be purchased in order to get into the Undead Poker Club:
Ad blocker interference detected!
Wikia is a free-to-use site that makes money from advertising. We have a modified experience for viewers using ad blockers

Wikia is not accessible if you've made further modifications. Remove the custom ad blocker rule(s) and the page will load as expected.