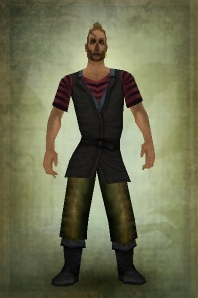 Bill Barrett is a member of the Casa de Muertos guild led by Captain Ezekiel Rott. Bill is in service to Jolly Roger, just like Rott is. It's not known whether the two men ever knew each other before they cast their lot in with the evil Jolly.
Quests
He could be found standing with their Guild Master offering a special quest from September 4th to September 27th, 2009, but will require the pirate to have a Notoriety level of 12 before being able to undertake it.
Skill Levels
Notoriety: Level 41
Cannon: Level 1
Sailing: Level 3
Sword: Level 24
Gun: Level 9
Voodoo Doll: Level 2
Dagger: Level 9
Ad blocker interference detected!
Wikia is a free-to-use site that makes money from advertising. We have a modified experience for viewers using ad blockers

Wikia is not accessible if you've made further modifications. Remove the custom ad blocker rule(s) and the page will load as expected.