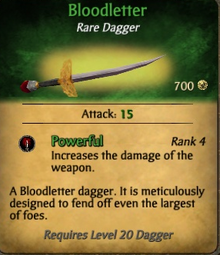 The Bloodletter Dagger is a large, finely-crafted rare blade that can only be found by completing the Bloodletter Weapon Upgrade Quest. This quest will automatically appear in your quest journal when you reach level 20 in Dagger. If you have already completed the Bloodletter quest, and sold the dagger, you cannot reobtain it. Once finishing the quest you should have +1300 notoriety.
Attack Power: 15
Abilities: Powerful 4
Level Required: Dagger 20
Resale Value: 700 gold
Cost: Can only be obtained by doing the quest listed above
Ad blocker interference detected!
Wikia is a free-to-use site that makes money from advertising. We have a modified experience for viewers using ad blockers

Wikia is not accessible if you've made further modifications. Remove the custom ad blocker rule(s) and the page will load as expected.