"Bounty Hunter" redirects here. For the enemy ships, see: Bounty Hunters.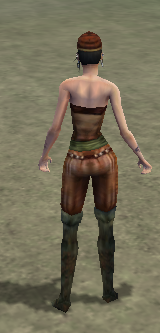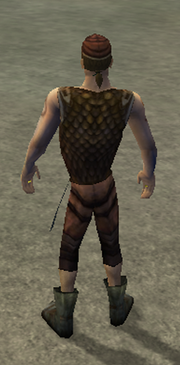 Bounty Hunter
is an outfit offered for purchase by
Peddlers
on
Padres Del Fuego
,
Cuba
,
Port Royal
, and
Tortuga
. Peddlers offer clothing that will only be available for a limited time (2 months). The outfit was first leaked the morning of October first, but was taken down and later released as a 5th Anniversary outfit on October 10th. It was leaked an additional second time on October 23rd as well.
Complete Outfit (Female): 5,400 Gold
Complete Outfit (Male): 4,700 Gold
In-Stock Dates (POTCO): October 1st 2012, October 10th - October 17th 2012, October 23rd 2012, August 28th 2013, September 6th 2013
In-Stock Dates (TLOPO): None
Female
Male
Ad blocker interference detected!
Wikia is a free-to-use site that makes money from advertising. We have a modified experience for viewers using ad blockers

Wikia is not accessible if you've made further modifications. Remove the custom ad blocker rule(s) and the page will load as expected.