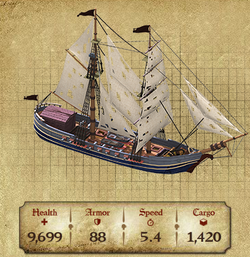 Not to be confused with the "Brig," which is heavier with different rigging. The brigantine is a Tier 3 Standard class ship in Pirates of the Caribbean: Isles of War. This ship is a great, speedy ship for beginners, but is not recommended for higher level players. 
Health: 9,699
Armor: 88
Speed: 5.4 (Medium)
Cargo: 1,420
Cost:

Lumber - 3,650
Iron - 910
Ad blocker interference detected!
Wikia is a free-to-use site that makes money from advertising. We have a modified experience for viewers using ad blockers

Wikia is not accessible if you've made further modifications. Remove the custom ad blocker rule(s) and the page will load as expected.