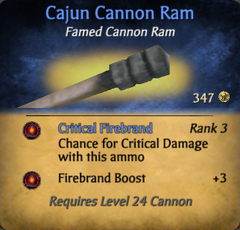 The Cajun Cannon Ram is an extremely powerful Famed Cannon Ram that improves a pirate's skill with Firebrand ammo. It allows the user to deal massive amounts of damage with Firebrand with its Critical Firebrand ability. This Cannon Ram was designed to tolerate the heat of Firebrand rounds.

Weapon Group: Fire Cannon Ram Group
Game Note:
Ad blocker interference detected!
Wikia is a free-to-use site that makes money from advertising. We have a modified experience for viewers using ad blockers

Wikia is not accessible if you've made further modifications. Remove the custom ad blocker rule(s) and the page will load as expected.