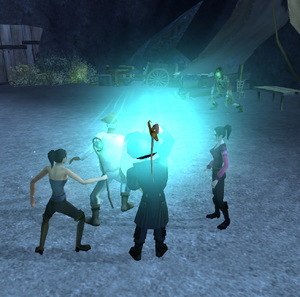 The Captain's Resolve Break Attack is a special weapon ability that allows a pirate to use his inspiring influence to help nearby allies keep their fighting spirit up. It is similar in a way to Nature Aura, but Captain's resolve heals a large amount instantly instead of a slow, constant, small amount of 30 HP. The only weapons that can use this skill are in the Admiral Group. Weapons with the Captain's Resolve Break Attack also have a higher value than most weapons.
Weapons
These weapons all have the Captain's Resolve ability.
Cutlasses
Sabres
Ad blocker interference detected!
Wikia is a free-to-use site that makes money from advertising. We have a modified experience for viewers using ad blockers

Wikia is not accessible if you've made further modifications. Remove the custom ad blocker rule(s) and the page will load as expected.