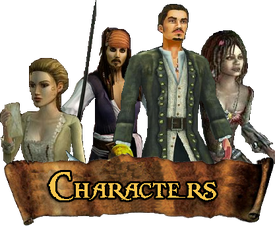 The game of Pirates Online introduces a myriad of characters who populate the Caribbean islands, which the players do quests for and/or interact with.
Most of the characters are NOT in any of the films, novels or comic books. Often, they simply perform a service (Shipwright for selling and repairing ships or a Barber for changing hair styles), but many will be revisited by the player again and again for quest assignments (Captain Job or Josie McReedy the barmaid).
Some, like Scarlet do have a part in the POTC Lore, but are there to guide the player or are part of a quest, while there are the many host GMs of various groups, mainly the Marceline Guild, the Casa de Muertos, members of the East India Trading Company and people like Sir Victor Mayhew. The others also include Constance Sorrow, John Moses,Captain Cromwell and Old Soot
Film Characters
Film Characters Not in the Game (Referenced)
Black Pearl Crew
These characters are former members of Captain Jack Sparrow's crew, whom have gone their separate ways, but Jack tasks the pirate to help gather his old shipmates.
Merchants (By Island)
Host GM Characters
Pre-Invasion Ghosts
Holiday GMs
EITC Black Guard
Misc. GMs
Subcategories
This category has the following 12 subcategories, out of 12 total.
Pages in category "NPC Characters"
The following 6 pages are in this category, out of 6 total.