'
To see a full list of all the Vests available for female pirates, click here.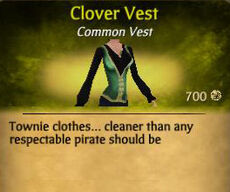 Clover Vests are Common women's vests. They can be worn by Unlimited Access Members only. They can be bought from Adoria Dolores in Dolores Tailoring Shoppe and Blanca Cruz in Blanca's Tailor Shop on Padres Del Fuego.
Ad blocker interference detected!
Wikia is a free-to-use site that makes money from advertising. We have a modified experience for viewers using ad blockers

Wikia is not accessible if you've made further modifications. Remove the custom ad blocker rule(s) and the page will load as expected.