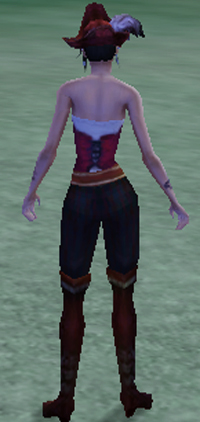 Crimson Captain is a matching outfit offered for purchase by the Peddlers on Padres Del Fuego, Cuba, Port Royal, and Tortuga. It has a red theme and a hat similar to the Black Buccaneer Hat and the Scoundrel Hat.
Complete Outfit (female): 8,550 Gold
Complete Outfit (male): 8,050 Gold
In-Stock Dates (POTCO): June 2011, August 2012, September 13th 2013
In-Stock Dates (TLOPO): None
Female
Male
Ad blocker interference detected!
Wikia is a free-to-use site that makes money from advertising. We have a modified experience for viewers using ad blockers

Wikia is not accessible if you've made further modifications. Remove the custom ad blocker rule(s) and the page will load as expected.