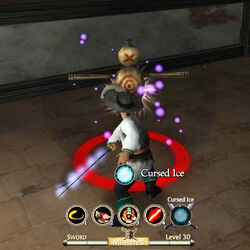 Cursed Ice is a skill found on some of the Cursed Blades in El Patron's stash. This skill does one hack that freezes the enemy in place, giving the pirate a few valuable seconds to attack, free from reprisal. It takes 50 voodoo to perform this skill and it is crucial and very helpful for the defeat of a Rage Ghost.
Sometimes, a glitch will occur, making the blade stay covered in ice forever until you unequip it or use the skill again.
Weapons with this Skill
Sabre
Bitter End, Grave Reaper
Broadsword
Tyrant Blade, Sharkfang Blade
Cutlass
Whalebone Blade, Grim Hound Blade
Ad blocker interference detected!
Wikia is a free-to-use site that makes money from advertising. We have a modified experience for viewers using ad blockers

Wikia is not accessible if you've made further modifications. Remove the custom ad blocker rule(s) and the page will load as expected.