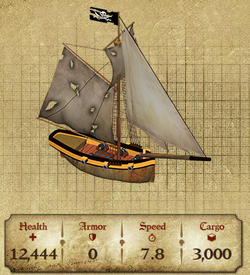 A small, lightweight ship in "Pirates of the Caribbean: Isles of War" with two cannons that uses its speed for precise positioning against an enemy. This ship has speed as its one superior element, but lacks in everything else.
Health: 12,444
Armor: 0
Speed: 7.8 (High)
Cargo: 3,000
Build Cost:

Lumber -  41,770
Iron - 4,640
Silk - 120

Research Cost:

Lumber - 217,760
Iron - 24,200
Silk - 635
Ad blocker interference detected!
Wikia is a free-to-use site that makes money from advertising. We have a modified experience for viewers using ad blockers

Wikia is not accessible if you've made further modifications. Remove the custom ad blocker rule(s) and the page will load as expected.