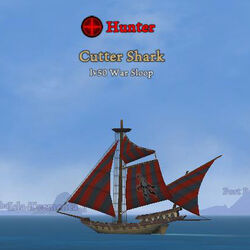 Cutter Shark is a Bounty Hunter War Sloop. Like all Bounty Hunter ships, this vessel will pursue any pirate who has been plundering a large number of ships and will relentlessly give chase until sunk. It uses firebrand and round shot, and has a Talon Emblem on its sails. It appears at levels 49-51.
Game Notes:
The striped pattern on the Shark's sails is now available at shipwrights (TLOPO).
The Cutter Shark has the lowest amount of health of all the bounty hunters.