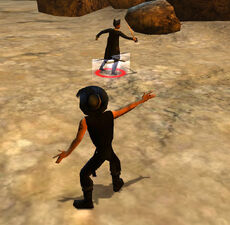 Dagger Rain
is a special
Break Attack
for
Throwing Knives
. The pirate using this skill will hurl three daggers at once, in all directions. Dagger Rain also has the ability to break Voodoo Attunements. This is also like the dagger skill " Vipers Nest ".
Weapons
The following weapons have the Dagger Rain ability:
Ad blocker interference detected!
Wikia is a free-to-use site that makes money from advertising. We have a modified experience for viewers using ad blockers

Wikia is not accessible if you've made further modifications. Remove the custom ad blocker rule(s) and the page will load as expected.