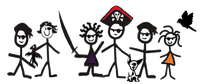 This page is a guide: Guides are essays that cover a specific topic in detail, in order to aid players to better grasp the topic. Guides may help you gain a better understanding of the game, but they are often written by a single editor, and the wiki offers no guarantee of their validity. Guides can be useful, but keep in mind that they may have a subjective point of view, or describe a specific approach to a subject which may not be the only solution.
To view all the guides on the wiki, please visit Category:Guides.

Ahoy! I be one of the best trainers in the Caribbean, some would dispute, but all of those savvy pirates that I have trained would back me up.
Tags
Tags are extremely important to leveling up. Remember that hint that says that grey tags are pushovers? Well that is one of the few hints that can actually help you, and I'm here to elaborate on that.
Grey tagged enemies give hardly any rep at all, from 1 rep to 15 rep.
Green tagged enemies give a little bit more rep, somewhere between 15 and 30 rep.
Yellow tagged enemies - these are the best enemies to fight, without a doubt. Yes, you may have to use a few tonics - they give anywhere between 30 and 75 rep. Whoa! big difference there, huh?
Red tagged enemies - obviously the hardest. These enemies are almost worse fighting than the grey tagged enemies because you have a high risk of dying, and you can't take more than 2 at a time unless your some sort of super ninja master. They give anywhere between 75 and 115 rep, BUT BEWARE the red tagged enemies take anywhere from 45 to 70 seconds to kill. It's a waste of time!
Places to Level
Ok, obviously where you level is important. But if you're a level 15 and you want to go all the way to Outcast Isle, I would read up on this first.
Levels 1-15: Tortuga Graveyard!
Tortuga Graveyard is a great place for newer pirates. Almost everyone there will be a yellow tag if you have weapons that are level 7 and below. And keep in mind that yellow tagged enemies are the absolute best to fight!
PLEASE DO NOT EDIT ON TO THIS PAGE, UNLESS YOU SEE A SPELLING ERROR, I'M NOT DONE EDITING OR EVEN WRITING THIS PAGE... THANK YOU FOR YOUR KINDNESS.
Ad blocker interference detected!
Wikia is a free-to-use site that makes money from advertising. We have a modified experience for viewers using ad blockers

Wikia is not accessible if you've made further modifications. Remove the custom ad blocker rule(s) and the page will load as expected.