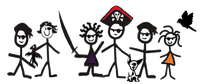 This page is a guide: Guides are essays that cover a specific topic in detail, in order to aid players to better grasp the topic. Guides may help you gain a better understanding of the game, but they are often written by a single editor, and the wiki offers no guarantee of their validity. Guides can be useful, but keep in mind that they may have a subjective point of view, or describe a specific approach to a subject which may not be the only solution.
To view all the guides on the wiki, please visit Category:Guides.
How do you get a Legendary Weapon? Well first, I would suggest General Darkhart. Go to a Quiet Server and plunder away. It might take 5 minutes, or a long time. For me, it took 3 months of Darkhart only to find my very first Lost Sword Of El Patron. He also gives very high amounts of Gold, Cheat Cards, and many other useful things. Second, I would try Foulberto Smasho. He will usually give large amounts of Famed or even the sought after Legendary Silver Freeze! Still no luck? Then try El Patron's Mine at the South Idol. (The Idol with 4 ghost). Still no luck again?!?! Try running around the always mysterious Isla Tormenta, doing one-shot kills with your most powerful gun. Its is almost guranteed to give you GREAT loot. You could also stay in one place and loot. The Gold Room works for most. Try looting there for a while. Remember, if the Server you're at won't give many Legendaries or Famed, swap Servers! Every time a loot skull drops or in a 15 minute range and nothing good is dropping, try changing your weapon belt. Using a repeater works well for me. I hope you find something good and good luck looting!PLEASE ADD TO THIS POST AND SHARE YOUR TRICKS AND TIPS TO LOOTING. DO NOT edit my Guide Text above.
Davy Hookwrecker 20:29, May 24, 2011 (UTC)
Ad blocker interference detected!
Wikia is a free-to-use site that makes money from advertising. We have a modified experience for viewers using ad blockers

Wikia is not accessible if you've made further modifications. Remove the custom ad blocker rule(s) and the page will load as expected.