| | |
| --- | --- |
| | This item has been discontinued from Pirates Online. Some pirates may have this item in their inventory, but players without it will not be able to obtain it. |
To see a full list of all the Shirts available for male pirates, click here.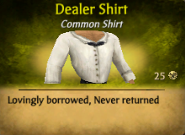 The Dealer Shirt used to be a Common male shirt. It could only be worn by Unlimited Access members. It could have been bought from Truehound's Tailor Shop on Port Royal or at Pugpratt's Tailoring on Cuba.
Price: 500 Gold
Resale price: 25 Gold