Note: This article refers to content from a seasonal event, which usually reoccurs once every year.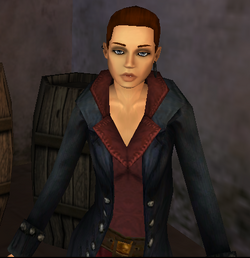 The beautiful Dedrie Dunnam is a townsperson of Tortuga who is part of February's Valentine's Day quest. She is the love interest of Sid Tackem, but seems to spurn his affections.
She is wearing the Adventure Riding Coat, which can be gained through the Adoria's Family Quest.
Game Note:
Ad blocker interference detected!
Wikia is a free-to-use site that makes money from advertising. We have a modified experience for viewers using ad blockers

Wikia is not accessible if you've made further modifications. Remove the custom ad blocker rule(s) and the page will load as expected.