| | |
| --- | --- |
| | This item has been discontinued from Pirates Online. Some pirates may have this item in their inventory, but players without it will not be able to obtain it. |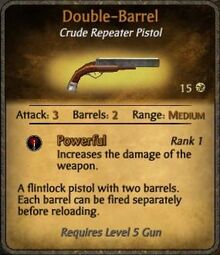 The Double-Barrel Pistol was a crude repeater pistol that allows for firing two consecutive shots without reloading. The pistol could be purchased at any gunsmith in the Caribbean.
Attack Power: 3
Abilities: Powerful 1
Range: Medium
Resale Value: 15 Gold
Cost: 300 gold (Discontinued)
Ad blocker interference detected!
Wikia is a free-to-use site that makes money from advertising. We have a modified experience for viewers using ad blockers

Wikia is not accessible if you've made further modifications. Remove the custom ad blocker rule(s) and the page will load as expected.