Pirates of the Caribbean Online is now closed.
This page will now serve as an archive for the content that was in POTCO, and a record of what is/will be in TLOPO.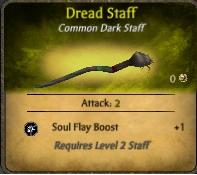 Dread Staff is a Common Staff with a small 2 attack and offers a small Soul Flay Boost.
Attack Power: 2
Resale: 0 gold
Abilities: Soul Flay boost +1
Level Required: Staff level 2
Found: Loot
Game Notes:
This staff is one of the few weapons that has a resale of 0 Gold.
Ad blocker interference detected!
Wikia is a free-to-use site that makes money from advertising. We have a modified experience for viewers using ad blockers

Wikia is not accessible if you've made further modifications. Remove the custom ad blocker rule(s) and the page will load as expected.