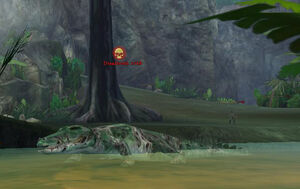 Dreadtooth is a Huge Alligator Boss, found in El Sudoron. Dreadtooth is enormous and will not be easy to defeat alone. He appears at Levels 13-19. You will need to defeat it for the Grand Pistol Quest. This is the most gigantic and dangerous alligator in the game. This dangerous alligator boss eats medium-level pirates for breakfast and munches on low-level pirates for a snack, but is quite easy to higher level players.
Game Notes:
Dreadtooth will always respawn in the same location.
Dreadtooth used to be found in the pond in the Tortuga Graveyard, but has been replaced by Hardtack.
Ad blocker interference detected!
Wikia is a free-to-use site that makes money from advertising. We have a modified experience for viewers using ad blockers

Wikia is not accessible if you've made further modifications. Remove the custom ad blocker rule(s) and the page will load as expected.