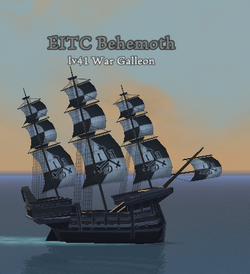 EITC Behemoth
is a heavy
War Galleon
, one of the biggest, and most dangerous
ships
at sea in service to the
East India Trading Company
. This vessel carries five
Deck Cannons
and twelve
Broadside
Cannons
on each side. They have been seen at Levels 40-42.
They attack with Firebrand Broadsides and shoot powerful Explosive rounds from the deck cannons. Due to these powerful explosive rounds, it is best to shoot off the ship's sails and sink her from afar. These rounds also make Behemoths one of the deadliest ships afloat, and they should be avoided by weaker ships, especially light ships. They can be found in the Hinterseas, and sometimes in the Uncharted Waters between Rumrunner's Isle and Isla Perdida, some Behemoths are known to hide out around Isla Cangrejos, East of Kingshead, and sometimes at SvS arena.
Game Note
Originally, the Behemoth was a flagship but was later changed to a normal vessel.
Ad blocker interference detected!
Wikia is a free-to-use site that makes money from advertising. We have a modified experience for viewers using ad blockers

Wikia is not accessible if you've made further modifications. Remove the custom ad blocker rule(s) and the page will load as expected.