Pirates of the Caribbean Online is now closed.
This page will now serve as an archive for the content that was in POTCO, and a record of what is/will be in TLOPO.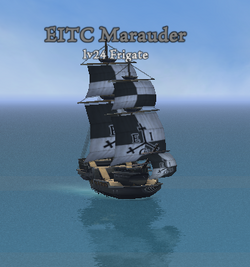 The
Maruader
is a medium
Frigate
in service of the
East India Trading Company
. This vessel carries five
deck cannons
and seven
broadside
cannons
on each side. In addition to traditional ammunition, they attack with
Firebrand
rounds for the Broadsides and
Chain Shot
for the Deck Cannons. They are often found in the waters around
Padres Del Fuego
and the southern coast of
Port Royal
.
Game Note: Like most frigates, this vessel is weakest in the stern and has no aft facing guns. If you can get behind her and unload your broadsides there, thats where the armor is thinnest.
Ad blocker interference detected!
Wikia is a free-to-use site that makes money from advertising. We have a modified experience for viewers using ad blockers

Wikia is not accessible if you've made further modifications. Remove the custom ad blocker rule(s) and the page will load as expected.