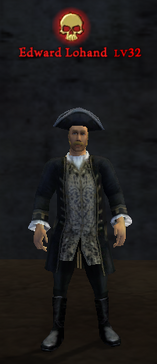 Edward Lohand is a deadly Assassin Boss much like Remington the Vicious and Neban the Silent, working in the shadows for the EITC. Not much is known about him since he is rarely seen. He has been spotted in Beckett's Quarry, the Catacombs on Padres Del Fuego, guarding the jail at the top of Kingshead, and on EITC flagships.
He has appeared at Levels 28-35, so a pirate may need to bring mates or a crew to take him down. He is the most powerful randomly appearing boss.
Game Note
He seems to be based on the book's Edward Low, a vicious EITC officer.
Unlike Remington the Vicious and Neban the Silent, Edward Lohand doesn't have double boss health points.
Ad blocker interference detected!
Wikia is a free-to-use site that makes money from advertising. We have a modified experience for viewers using ad blockers

Wikia is not accessible if you've made further modifications. Remove the custom ad blocker rule(s) and the page will load as expected.