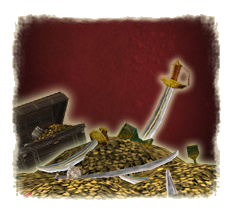 Shortly after the release of El Patron's Lost Weapons in 2010, the Marceline Guild made an appearance to tell Pirates a little bit about the backstory of the weapons' appearances.
Official Release Post from Pirates Online:
"With the discovery of El Patron's Lost Weapons, Pirates all over the Caribbean are wondering about the mysterious origins of these legendary weapons. Fortunately, after witnessing the gruesome battle between Beckett and Jolly Roger on Raven Cove, the Marceline Guild now has inside knowledge about the weapons' true history. Join the GM's as they explain the origins of El Patron's weapons and details of the epic battle that changed the Caribbean forever!
What: Discovery of El Patron's Lost Weapons!
When: Saturday, April 24 from 2 p.m. - 3 p.m. and 5 p.m. - 6 p.m.
Sunday, April 25 from 2 p.m. - 3 p.m. and 5 p.m. - 6 p.m. (All times are Pacific/ Los Angeles.)
Where: Find the Marceline guild on docks of Tortuga and Port Royal.
The Details: You'll know the Marceline guild by the flaming skull logo above their heads."
Below is a video of the event:
Ad blocker interference detected!
Wikia is a free-to-use site that makes money from advertising. We have a modified experience for viewers using ad blockers

Wikia is not accessible if you've made further modifications. Remove the custom ad blocker rule(s) and the page will load as expected.