El Patron's Ship is the former ship of the Spanish conquistador, El Patron. It is not known by any particular name. It is the location of the "El Patron Boss Battle". The ship is currently located in a landlocked cove on the far side of Raven's Cove, and can only be accessed from El Patron's Mine.
The location of the ship currently is where ships could easily access the mines while they were active. After El Patron's crew mutinied him, they caused a rock collapse that closed off the ship's only way out.
On deck there is simply the helm wheel, which does not appear to function, and also a Loot Skull Chest that can only be opened after the pirate has defeated El Patron. The Skull Chest contains the 3 Cursed Blades of El Patron, only one of which the pirate gets to keep.
Game Notes:
After El Patron's defeat, you cannot access the ship through the mine door anymore, but there appears to be a glitch to get in. Since the ship can be seen by looking down from the cliff that is home to the entrance to El Patron's Mine, just walk around to the far end. There is also a large rock on the far side of the cliff face, and if you walk into the corner of it, you will fall into the water surrounding the ship. You can then swim onto the beach and climb aboard the ship.
El Patron's ship is the only known carrack in the game.
Video Footage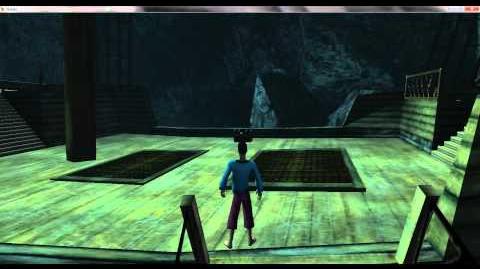 Ad blocker interference detected!
Wikia is a free-to-use site that makes money from advertising. We have a modified experience for viewers using ad blockers

Wikia is not accessible if you've made further modifications. Remove the custom ad blocker rule(s) and the page will load as expected.