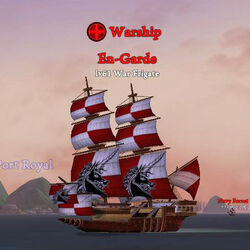 The En-Garde is a Warship War Frigate. She uses Thunderbolt and Round Shot ammo. Like all bounty hunter ships, this vessel will pursue a wanted pirate relentlessly until sunk. Don't underestimate her just because she is a War Frigate as many pirates do opposed to the Ship of the Line, which most Warships are. She is the only Navy ship that will fire Thunderbolt ammo. Her sails, like the Tally-ho, have a unicorn emblem on them.
Game Notes:
Ad blocker interference detected!
Wikia is a free-to-use site that makes money from advertising. We have a modified experience for viewers using ad blockers

Wikia is not accessible if you've made further modifications. Remove the custom ad blocker rule(s) and the page will load as expected.