Recognized by the Administrators
of this site as a quality guide!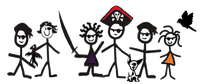 This page is a guide: Guides are essays that cover a specific topic in detail, in order to aid players to better grasp the topic. Guides may help you gain a better understanding of the game, but they are often written by a single editor, and the wiki offers no guarantee of their validity. Guides can be useful, but keep in mind that they may have a subjective point of view, or describe a specific approach to a subject which may not be the only solution.
To view all the guides on the wiki, please visit Category:Guides.
Jumper or not, this page contains a list of the best Weapon choices for PvP for beginners to masters, however they are ALL good choices for PvP, the ones for the masters are just if you are a good looter, and come in alot more handy.
NOTE: Each weapon on this list is good in it's own way, so they will only come in handy to you if you train your skill points to go in order with theirs, remember, it's all about a weapons Skill points that makes it good in PvP, and they won't be good if not in the right hands, so you must pick a weapon as your default weapon that you will always use for PvP and set your skill points to go in correct order with the skill boosts on the weapon. That is the key to being good in PvP.
Good Cutlass Choices
Good Broadsword Choices
Good Sabre Choices
Good Throwing knives and Dagger Choices
Good Gun Choices
Ad blocker interference detected!
Wikia is a free-to-use site that makes money from advertising. We have a modified experience for viewers using ad blockers

Wikia is not accessible if you've made further modifications. Remove the custom ad blocker rule(s) and the page will load as expected.