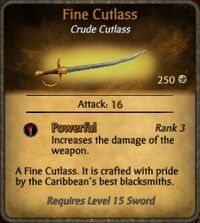 The Fine Cutlass is a more refined weapon that can only be acquired (currently) by completing the Fine Cutlass Quest This quest is only offered to pirates having a Cutlass skill of 15.
Game Note: This used to be a rare cutlass before, but was changed to crude.
The quest can be difficult, so it is a good idea to consider having a higher level pirate to help you out.
Ad blocker interference detected!
Wikia is a free-to-use site that makes money from advertising. We have a modified experience for viewers using ad blockers

Wikia is not accessible if you've made further modifications. Remove the custom ad blocker rule(s) and the page will load as expected.