Fine Cutlass
Comments

3
2,584pages on
this wiki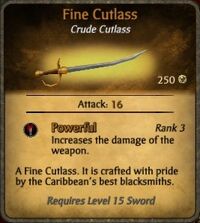 The Fine Cutlass is a more refined weapon that can only be acquired (currently) by completing the Fine Cutlass Quest This quest is only offered to pirates having a Cutlass skill of 15.
Game Note: This used to be a rare cutlass before, but was changed to crude.
The quest can be difficult, so it is a good idea to consider having a higher level pirate to help you out.