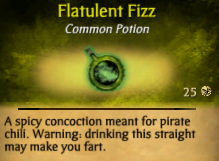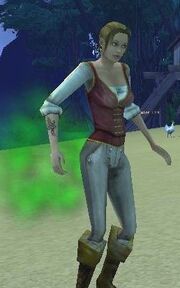 Flatulent Fizz is a magic potion that causes the pirate to pass a noxious green gas cloud. If a pirate looks closely, a skull and crossbones can be seen in the cloud before it dissipates. The gas does NOT appear to have any effect on allies or enemies, though it might clear a room.
Ingredients:
Poison Extract
Crab Extract
Tooth Dust
Cursed Essence
Note: This potion can only be made on Cuba.
Redeem Code
A special offer was made for Unlimited Account members. From June 7th until July 7th, 2010, pirates could redeem the code FIZZ to receive a FREE Flatulent Fizz potion to try. This redeemable code has since expired.
Ad blocker interference detected!
Wikia is a free-to-use site that makes money from advertising. We have a modified experience for viewers using ad blockers

Wikia is not accessible if you've made further modifications. Remove the custom ad blocker rule(s) and the page will load as expected.