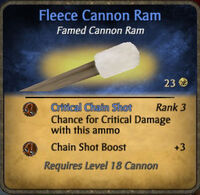 The Fleece Cannon Ram is a famed cannon ram. It gives the user a Critical Chain Shot ability and Chain Shot boost. This ram is made for the soul purpose of improving Chain Shot, making it very useful for ripping off sails easily. It is also the most powerful Cannon Ram out of the Soft Cannon Ram Group.

Weapon Group: Soft Cannon Ram Group
Ad blocker interference detected!
Wikia is a free-to-use site that makes money from advertising. We have a modified experience for viewers using ad blockers

Wikia is not accessible if you've made further modifications. Remove the custom ad blocker rule(s) and the page will load as expected.