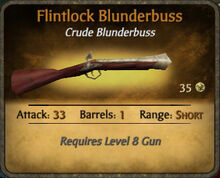 A Flintlock Blunderbuss is an often found crude weapon. This is the strongest blunderbuss that can be used by a Basic Access Member and Unlimited Access Member, but has no special ablities. As it requires level 8 Gun , a Basic Access Member must have had Unlimited Access at one time and leveled their gun past 7 to be able to use this weapon.
Attack Power: 33
Abilities: None
Range: Short
Resale Value: 35 gold
Cost: Can only be found in loot
Ad blocker interference detected!
Wikia is a free-to-use site that makes money from advertising. We have a modified experience for viewers using ad blockers

Wikia is not accessible if you've made further modifications. Remove the custom ad blocker rule(s) and the page will load as expected.