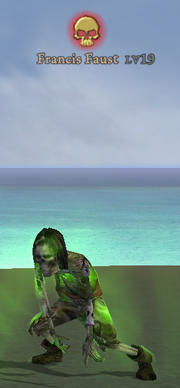 Francis Faust is an Undead Duelist Boss. He has appeared at Levels 14-19 (Health 5,750-7,750) and has been spotted in Beckett's Quarry, Lava Gorge, Rat's Nest, Misty Mire, Cutthroat Isle, and during Invasions.
Francis is a random boss, appearing wherever Undead Duelists may appear.
Ad blocker interference detected!
Wikia is a free-to-use site that makes money from advertising. We have a modified experience for viewers using ad blockers

Wikia is not accessible if you've made further modifications. Remove the custom ad blocker rule(s) and the page will load as expected.