Pirates of the Caribbean Online is now closed.
This page will now serve as an archive for the content that was in POTCO, and a record of what is/will be in TLOPO.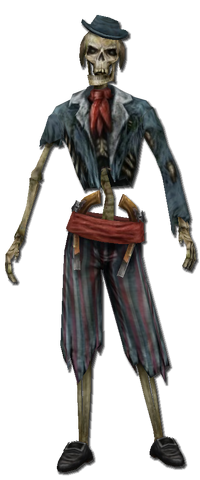 This
French Undead
skeleton
can be found on
Isla Cangrejos
or the
High Seas
on
Flagships
. They attack with a foil, instead of a
cutlass
.
Appear at Level 15-20 (Health 1,250-1,750).
Game Note - On flagships, they have been sighted at Levels 15-40!
Game Notes:
The French Maitres formerly used daggers in battle.
Maitre is master or tutor in French.
Ad blocker interference detected!
Wikia is a free-to-use site that makes money from advertising. We have a modified experience for viewers using ad blockers

Wikia is not accessible if you've made further modifications. Remove the custom ad blocker rule(s) and the page will load as expected.