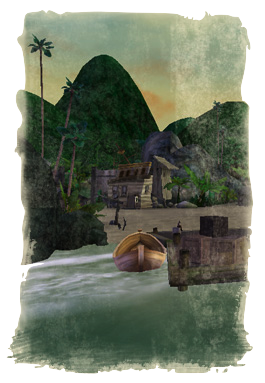 It was another perfectly fine day for sailing -- a fair breeze blew from the East, the smell of saltwater in the air and oddly, the scent of gunpowder. Almost a month had passed since the destruction of Port Royal and things were beginning to return to normal — or so it seemed.
I had just anchored The Magic in Tortuga bay, and we was ferrying our cargo to shore when we heard the first blast. I looked toward the sound and could not believe me eyes! Just like at Port Royal, a chain of explosions tore through the town — and then fire, fire everywhere! Splinters of wood, gold coins, and other bits rained down around our dinghy. They splashed down in the water beside us along with the remains of a cargo container with the letters "E I T C" branded on the side.
The crew seemed like they be ready to mutiny — thinking I was cursed and bringing this all upon us! I explained I just have me a terrible knack for being in the wrong place at the wrong time. They was just about to toss me into the drink when we heard that laugh — that dry, hollow, wicked laugh. Jolly Roger! What did he have to do with this mess?
After the smoke cleared, theEITC and Navy set upon rebuilding the town almost immediately. And like Port Royal, both the EITC and Navy denied any association with the incident.
Those days have passed now and the new Tortuga is being welcomed with open arms. Aye, I think back to the day of the explosion and that eerie laugh. It be Jolly Roger just enjoying the mayhem, says some. But in cahoots with the EITC, says I. Is that fiend Lord Beckett dealing with the undead? If that be so, we Pirates in some serious trouble, mates.

Ad blocker interference detected!
Wikia is a free-to-use site that makes money from advertising. We have a modified experience for viewers using ad blockers

Wikia is not accessible if you've made further modifications. Remove the custom ad blocker rule(s) and the page will load as expected.