Pirates of the Caribbean Online is now closed.
This page will now serve as an archive for the content that was in POTCO, and a record of what is/will be in TLOPO.
Game Cards were basically gift cards for Pirates Online. They granted Unlimited Access for a certain amount of time. Picture is an example of a Game Card.
GAME CARDS ARE NO LONGER AVAILABLE FROM ANY U.S. RETAIL STORE!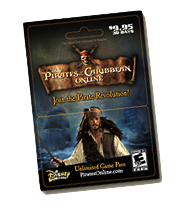 Page from Piratesonline.com:
Get 30-Day Game Cards for Pirates of the Caribbean Online for Unlimited Access and explore all the Caribbean has to offer!
Here's How it Worked:
Buy a 30 Day Game Card. (Your card is activated at the register upon purchase.)
Scratch off the back of the Game Card to reveal your unique PIN and redeem it under Account Options.
Upgraded to Unlimited Access!