Game Cards were basically gift cards for Pirates Online. They granted Unlimited Access for a certain amount of time. Picture is an example of a Game Card.
GAME CARDS ARE NO LONGER AVAILABLE FROM ANY U.S. RETAIL STORE!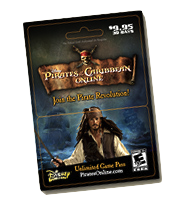 Page from Piratesonline.com:
Get 30-Day Game Cards for Pirates of the Caribbean Online for Unlimited Access and explore all the Caribbean has to offer!
Here's How it Worked:
Buy a 30 Day Game Card. (Your card is activated at the register upon purchase.)
Scratch off the back of the Game Card to reveal your unique PIN and redeem it under Account Options.
Upgraded to Unlimited Access!
Ad blocker interference detected!
Wikia is a free-to-use site that makes money from advertising. We have a modified experience for viewers using ad blockers

Wikia is not accessible if you've made further modifications. Remove the custom ad blocker rule(s) and the page will load as expected.