Note: This article refers to content from a seasonal event, which usually reoccurs once every year.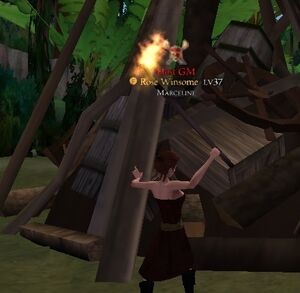 "Join us for a special event to give thanks to your Friends and Guildmates at the
Gathering of the Guilds Feast
on the shores of
Tortuga
."
Remember the first time a fellow Pirate helped Revive you? Do you recall that time while sailing when you were almost done for and your Guildmate helped you repair at sea? For all those times you were in a sticky jam, it was nice to be able to turn to your friend for a helping hand. To be there for you.
This feast will feature
you
and
your guildmates
, gathering around a triumphant bonfire to celebrate your teamwork and victories together. The bonfire lighting will start at 4PM PST/Los Angeles daily.

Don't forget to enjoy the fire-roasted pork! All Pirates can pick up pork tonics and use it in combat when you feel your health running low. A Pork Tonic will immediately give you full health.
The Marceline Guild will also be stopping by from time to time during the weekend (Friday, Saturday, and Sunday) to personally thank you for all the teamwork demonstrated during recent Invasions and for also defending Tortuga's wealth in Cannon Defense.
Other activities you and your friends can enjoy:
Ship Raids - Treasure Fleets (as they are known to be extremely active during this time of the year), and Cannon Defense with your Guild. (Some friendly competitions to see who's the best, most accurate, most skilled cannonner in the bunch)
Ship Repair Speed Races - Pirates can join a repair table and race against one another to see who can complete the most repair jobs the quickest.
Don't forget to share what you and your Guilds have planned and be sure to include where and when you will be gathering so it can be posted right here for all to see.
What: Gathering of the Guilds Feast
When: November 25, 26, 27, 28, bonfires light at 4pm to 10pm, Daily.
Where: Shores of Tortuga

Share stories!
Thank your Guildmates!" - From Disney Pirates Online
Game Notes:
The Gathering of the Guilds Feast used to be called the Founder's Feast.
5 Pork Tonics may be taken at a time.
Pork Tonics may only be taken once the bonfire is lit.
Pork tonics are located near the big bonfire on a little spit over a little fire next to Bonita's Tattoo Parlor.
GMs, or Game Masters will usually appear at the Bonfire sight to start the Festivities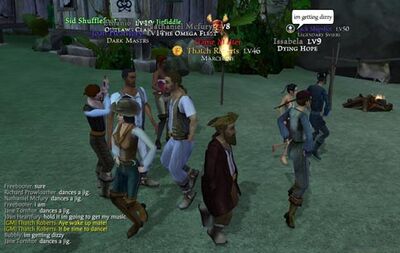 Ad blocker interference detected!
Wikia is a free-to-use site that makes money from advertising. We have a modified experience for viewers using ad blockers

Wikia is not accessible if you've made further modifications. Remove the custom ad blocker rule(s) and the page will load as expected.