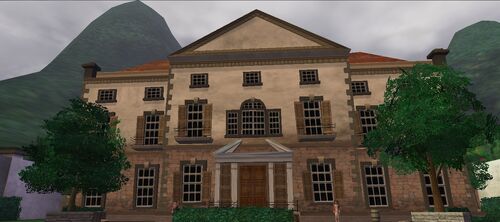 The Governor's Mansion is the elegant home of Port Royal's Governor Weatherby Swann and his daughter, Elizabeth Swann. Though not a separate area itself, the mansion house is walled off to limit access to local citizenry and is guarded by numerous Royal Navy Cadets which are no threat to even a moderately skilled buccaneer. Once inside, Elizabeth Swann can be seen sitting behind the desk.
Invasion!
Jolly Roger used Captain Ezekiel Rott and the Casa de Muertos guild to trick pirates into making Port Royal vulnerable to attack. Now, the Governor's Mansion is his main target as his undead armies siege the island during an Invasion.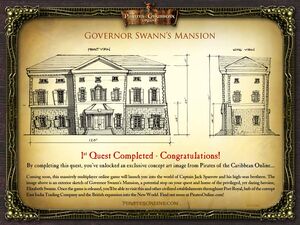 External links
The Dagger Quest
Once a pirate has reached level 10, they will get their newest weapon quest, Weapon Unlock: Dagger. On this quest, you will go to the Governor's Mansion to visit Elizabeth multiple times.
Ad blocker interference detected!
Wikia is a free-to-use site that makes money from advertising. We have a modified experience for viewers using ad blockers

Wikia is not accessible if you've made further modifications. Remove the custom ad blocker rule(s) and the page will load as expected.