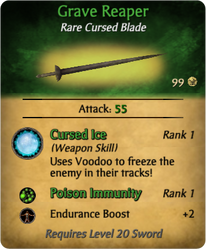 The Grave Reaper is a rare and unique Cursed Blade. It has the special Cursed Ice ability to freeze enemies in their tracks, leaving them defenseless and powerless. It also increases the user's Endurance skill and makes them immune to poison. Like most Cursed Blades, it is also followed by a menacing black shadow.

Ad blocker interference detected!
Wikia is a free-to-use site that makes money from advertising. We have a modified experience for viewers using ad blockers

Wikia is not accessible if you've made further modifications. Remove the custom ad blocker rule(s) and the page will load as expected.