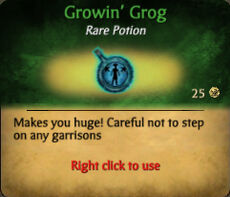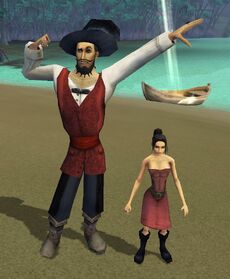 Growin' Grog
is a magical
potion
that makes your pirate grow to gigantic proportions. This magic lasts for 5 minutes (300 seconds). This potion is the complete opposite of the
Shrinkin' Grog
.
This is a level 16 Potion that requires:
Game Notes
Using Growin' Grog in close quarters, like the four Ghosts at the Southern Idol in Raven's Cove, makes fighting very difficult, so it is unadvised. It is hard to see opponents, select weapons, and view the screen while the Sea Chest is open.
Unfortunually If a pirate gets knocked out, uses a cannon, or steers a ship while under the effect of this potion, the effect will go away.
Ad blocker interference detected!
Wikia is a free-to-use site that makes money from advertising. We have a modified experience for viewers using ad blockers

Wikia is not accessible if you've made further modifications. Remove the custom ad blocker rule(s) and the page will load as expected.