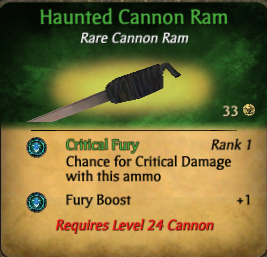 The Haunted Cannon Ram is a rare cannon ram that gives the pirate using it Critical Fury and a small, but powerful Fury boost. Some people like its Critical Fury better than they do the Infinite Fury of the Revenant Ram because it can deal massive amounts of damage.
Abilities: Critical Fury 1, Fury +1
Level Required: Cannon 24
Resale Value: 33 gold
Cost: Can only be found in loot and while playing Cannon Defense

Game Note:
Ad blocker interference detected!
Wikia is a free-to-use site that makes money from advertising. We have a modified experience for viewers using ad blockers

Wikia is not accessible if you've made further modifications. Remove the custom ad blocker rule(s) and the page will load as expected.