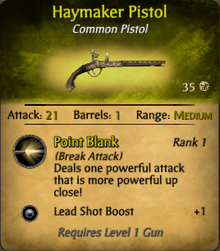 The Haymaker Pistol is a Common, single-barreled pistol with an average attack, the Point Blank Break Attack ability, and a small Lead Shot boost. It was released to Open Servers soon after the release date of Pirates of the Caribbean: On Stranger Tides. It's a powerful weapon for beginning pirates to use, only requiring level 1 gun. The redeem code was available until September 26, 2011, when it expired. It is now available for redemption again from August 23, 2013 until September 19, 2013, when Pirates Online closes.
Attack Power: 21
Abilities: Point Blank 1, Lead Shot +1
Level Required: Gun 1
Range: Medium
Resale Value: 35 gold
Cost: Redeem code haymaker.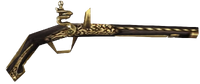 Ad blocker interference detected!
Wikia is a free-to-use site that makes money from advertising. We have a modified experience for viewers using ad blockers

Wikia is not accessible if you've made further modifications. Remove the custom ad blocker rule(s) and the page will load as expected.