The Heavy Tri-Barrel is a crude Repeater Pistol. It was formerly the second most powerful firearm. This pistol can be obtained by performing the Heavy Tri-Barrel Upgrade Quest where the player will have to travel alot, play some poker and blackjack, then defeat some unchallenging enemies and ships.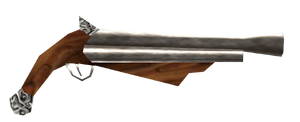 Notes:
Once this weapon is sold or trashed, you can't get it back.
If you become a basic member, you can still use this weapon.
Ad blocker interference detected!
Wikia is a free-to-use site that makes money from advertising. We have a modified experience for viewers using ad blockers

Wikia is not accessible if you've made further modifications. Remove the custom ad blocker rule(s) and the page will load as expected.