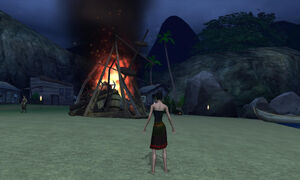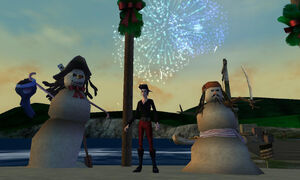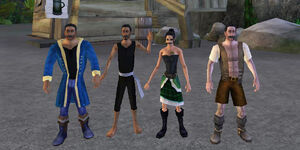 Holidays
were special
Events
that occurred on or near a real cultural, historical or calendar holiday. These events could include special decorations, themed
Pirate
items (
Clothing
,
tattoos
,
Hair Color
, etc.), or the arrival of holiday-themed or special
Non-player Characters
.
St. Patrick's Day
even brought
Green Seas
!
Game Masters could appear during these times to participate or lead events too!
List of Holidays
The following annual Holiday's are listed in chronological order.
Holidays That Could Appear Multiple Times a Year
Friday the 13th - Appeared different times a year, or even multiple times depending on how many "Friday the 13th's" there were in a year.
Peddler Holiday Outfits
These sets were only available from the Peddlers during specific Holiday Events. They were usually in stock for a much shorter time than normal sets, spanning just a week, or in some cases, only 2 days.
Holiday-Style Peddler Sets
Holiday-Style Peddlers Sets were holiday-themed outfits sold near Holiday event periods, but lasted 2 months, on the normal monthly Peddler track, instead of the holiday track, where the outfits left along with the event.
Game Notes:
Though a calendar holiday may only be a specific day, holiday events on Pirates Online could last a weekend or an entire week or two.
In order to receive a holiday item, you sometimes needed to purchase it or perform a special quest.
Ad blocker interference detected!
Wikia is a free-to-use site that makes money from advertising. We have a modified experience for viewers using ad blockers

Wikia is not accessible if you've made further modifications. Remove the custom ad blocker rule(s) and the page will load as expected.