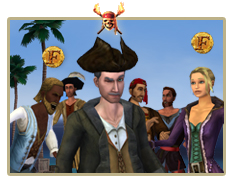 In 2009, shortly before Invasions were released, an event hosted by the Marceline Game Masters to give strategic tips on how to succeed in this new scenario expansion.
Official Release Post from Pirates Online:
"Get tips and combat strategies straight from Captain Walter and his crew this weekend!
When: Friday, October 9 from 4PM - 5PM Saturday, October 10 from 2PM - 3PM Sunday, October 11 from 3PM - 4PM (All times Pacific Standard, Los Angeles.)
Where:All "B" named oceans/servers. The marketplace just outside the Rowdy Roster on Port Royal.
Please note: This is a ROLE PLAYING event. Unless asked to do so by a Pirates Online GM, keep yer weapons stowed during the event. Please be respectful to your fellow pirates - DO NOT participate in disruptive behavior."
Ad blocker interference detected!
Wikia is a free-to-use site that makes money from advertising. We have a modified experience for viewers using ad blockers

Wikia is not accessible if you've made further modifications. Remove the custom ad blocker rule(s) and the page will load as expected.