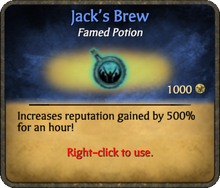 Jack's Brew is a crude potion that was received from entering the code jacksboost in-game, or by completing the "New Years Challenge for Ye". This incredible potion increases reputation gained by 500% for one hour (except in Infamy and quests).
Background story
"
This ain't your grandpa's potion, it be Jack Sparrow's and it packs a punch.
"
 

— POTCO Grog Blog
The good Captain Jack heard pirates lost some ground in their battles recently, and as a show of good faith, he has chosen to part ways with a little of his "special brew." You didn't think he'd send you out on adventure empty handed, did ya?
Important Notes:
All Potions, including Jack's Brew, will be lost if you enter a PvP Match while its effects are still going. If you wish to enjoy the extended reputation for one hour, DO NOT PvP under the influence of Jack's Brew. 'Tis a bad combination. Additionally, the brew will not exceed any notoriety caps.
There is a timer for the hour of its effects, so unlike other potions like Swift Foot, the duration continues when you log back on.
Game Notes:
The original code expired on April 1st, 2011.
Another code (code being jacksboost) was released on August 30th, 2013, in celebration of the closure of Pirates Online.
This potion was only available by the redeem code or by New Years Challenge for Ye, and can't be made by potion brewing.
This potion was made to make up for bad game coding which caused every single pirate to be rolled back to a couple days earlier, before the bad coding. This happened during the Valentine's Day Event in 2011 and caused pirates to have to redo the quest available at the time.
Jack's Brew was originally a common potion, but was changed to crude so Basic Access Players could use it.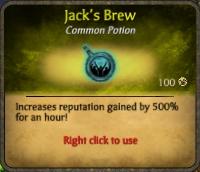 Ad blocker interference detected!
Wikia is a free-to-use site that makes money from advertising. We have a modified experience for viewers using ad blockers

Wikia is not accessible if you've made further modifications. Remove the custom ad blocker rule(s) and the page will load as expected.