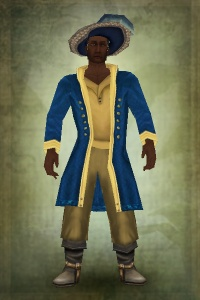 James Howe
is a pirate from the
Marceline Guild
. At this time, little is known about him. His notoriety level is 39. He appeared in the
Brethren Feast Weapon Giveaway
Captured!
During a past event, Captain Xavier Hench sent out a letter from behind enemy lines to pirates telling that James Howe had been captured, along with Ben Bowman and Catherine Harcourt; after forwarding information about the reasons for the recent increase in invasion activity. The invaders were seeking a single new weapon rumored to give those who wield it added powers over their enemy.
Levels
Overall Level: 39
Cannon: 25
Sailing: 26
Cutlass: 30
Pistol: 30
Doll: 25
Dagger: 25
Grenade: 25
Staff: 25
Ad blocker interference detected!
Wikia is a free-to-use site that makes money from advertising. We have a modified experience for viewers using ad blockers

Wikia is not accessible if you've made further modifications. Remove the custom ad blocker rule(s) and the page will load as expected.