Jean Luc Pierpont is a townsperson on the French privateer island, Ile D'Etable De Porc. This privateer Captain can be found lounging at Porc's Tavern between battles with his enterprising crew.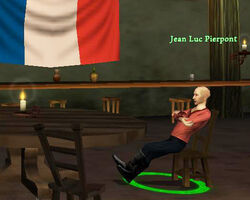 Game Note
His name and appearance are a pun of the famous Star Trek character Jean-Luc Picard.
Ad blocker interference detected!
Wikia is a free-to-use site that makes money from advertising. We have a modified experience for viewers using ad blockers

Wikia is not accessible if you've made further modifications. Remove the custom ad blocker rule(s) and the page will load as expected.