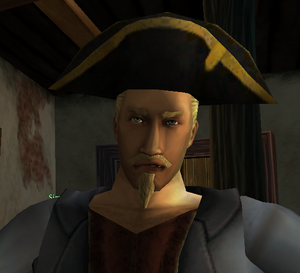 Karbay Benedeck is large, rough member of the Black Pearl crew. He can be found in the Faithful Bride, standing at Captain Jack Sparrow's table.
He seems to function like a loanshark, as a number of pirates owe him money and he's not subtle and shy about going after what is owed him.
The pirate will run errands for Benedek as part of The Black Pearl Crew Story Quest.
Ad blocker interference detected!
Wikia is a free-to-use site that makes money from advertising. We have a modified experience for viewers using ad blockers

Wikia is not accessible if you've made further modifications. Remove the custom ad blocker rule(s) and the page will load as expected.